Libby Johnson, director of Johnsons Jewellers in Nuneaton, explains how to choose the perfect wedding ring.
Choosing the perfect wedding ring has to be one of the most crucial tasks ahead of getting married. After all, these small, delicate momentos of precious metal hold extreme sentiment for the rest of our lives. They are a symbol of eternal love and fidelity.
Choosing the right design can sometimes be overwhelming, as there are numerous designs out there. This is why, at Johnsons Jewellers, we have created a helpful guide to give you and your loved one the insight into the world of wedding rings.
The tradition of wearing wedding rings exchanged between spouses dates back to the Ancient Egyptians. Although the rings were not made from precious metals like today, they were delicately created from more organic materials such as hemp.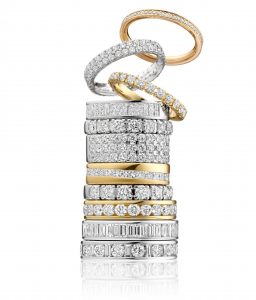 Craftsmanship has adapted rapidly over the decades however beliefs have remained the same.
Many people ask why a wedding band is worn on the left hand and on the fourth finger. The ideology is this particular finger on the left hand has a 'vein of love', which directly leads to the heart. It is not uncommon however in Eastern European countries such as Russia and Poland that wedding bands are worn on the right hand. In the Netherlands rings are worn on both hands, historically to represent the religion of its wearer; Catholics (left hand) or Protestants (right hand).
Today wedding rings are usually made from precious metals such as gold, platinum and more recently palladium, a sister metal to platinum. Industrial metals such as titanium or cobalt are also accessible for clients looking for an even harder wearing material. The perpetuity of these noble metals symbolises the permanence of a marriage.
Traditional plain wedding band: 
For many years people have opted for the simplicity of a plain wedding band. Traditionally the wedding band is slightly wider than the engagement ring itself. Choosing the correct width is important not only for maximum comfort for the wearer but also to suit the size of a person's hand. The objective of a wedding ring is to compliment the engagement ring – not to upstage it.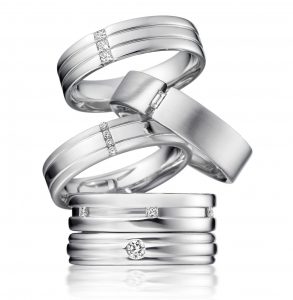 Traditional court:
The traditional court is no doubt the most traditional of the wedding ring profiles. It is rounded on the inside and the outside to give a curved appearance. This type of ring compliments a wide variety of engagement rings and is also available in all precious metals.
Flat Profile:
This profile of wedding ring is flat on all surfaces, It can give the appearance and feel of a more modern, heavier-set ring. This profile is more attractive to gentlemen. Once again, it is available in all precious metals.
Flat court:
This is a fusion between the flat profile and the traditional court. It has a curved inner edge but maintains the look of a flat profile. This style sits beautifully next to most engagement rings and is also favoured by gents.
D Shape:
This traditional profile has proved popular with ladies and gents. The profile has a distinctive domed outer edge. It is available in all precious metals.
Patterned wedding bands:
Patterned wedding bands are for those who are after a classic ring but with a twist. From Celtic designs to dazzling diamond-cut, there is a pattern for each person's taste. Some careers do not allow stone-set jewellery, so a patterned wedding band could be an excellent alternative.
Two or three colour wedding bands:
Multi-coloured wedding bands are definitely rising in popularity. This design of band is an excellent idea for those who love to mix and match different colours of gold. For many, this design goes perfectly with two-tone watches they may also have. Some partners may wish to have different coloured wedding bands but still wish to match; by choosing a two or three colour ring you can have the best of both. We have the technology to allow customers to create their own bi-colour ring. Simply choose the base metal you wish from various precious metals and then pick a sleeve metal to compliment. This type of wedding band is also available in different finishes and patterns.
Diamond-set wedding bands:
For those who love a little sparkle, having a diamond-set band can be the right choice. A useful tip for ladies having a diamond wedding band is to try and match the same setting from the engagement ring. Popular diamond-setting styles include:
Channel set:
This style is available in most precious metals. The channel set is a modern, clean look. Most ladies have this as half diamond coverage across the band. Channel set is usually available with round, brilliant-cut diamonds, princess cut or even the fancy mixed stone variety. This is a very secure setting where the diamonds are flush within the metal setting, resulting in peace of mind for daily wear.
Vintage milgrain/grain set:
This style works with antique or vintage-inspired engagement rings. It also looks fantastic with a classic solitaire ring of any cut. This band is available in various precious metals and diamond sizes.
Micro claw set:
This is a very similar design style to the traditional claw set, the micro pave set wedding bands refer to very uniform sized diamonds set with smaller, deeper-set claws. This is a slimmer and more feminine design of ring. It is available in most precious metals and different diamond coverage.
Optional personal touches:
Add the finishing touch to your wedding rings with personal engraving. Most customers opt for a wedding date engraved on the inside of the rings (width dependant). It's a super handy reminder tool for your partner.
When you purchase wedding rings from us we offer a complimentary engagement ring clean and polish before your special day.
For more information about creating your own bespoke wedding ring visit: https://johnsonsjewellers.co.uk/bespoke-ring-builder