Pokémon fans from across the globe are setting their sights on Lichfield as the city's auctioneer celebrates the 25th anniversary of the trading cards
Richard Winterton Auctioneers is launching a timed sale featuring some of the finest collectable Pokémon trading cards in the world and total hammer prices are anticipated to realise £100,000.
The 25th anniversary of Pokémon falls on February 27. Richard Winterton's international timed auction is live now and will run until 10am on Monday, March 8.
The sale consists of 42 lots including:
An extensive collection of around 1,000 assorted Pokémon cards from various sets, the majority PSA graded Gem Mint 10 1st editions
70 sealed Team Rockets booster long packs each containing 11 cards, all complete, unopened and in very good condition
An unopened Base Set Booster Box from Wizards Of The Coast, 1999/2000, in its original WOTC cellophane marked as made in USA.
The family firm has become a go-to place for Pokémon, with recent collections of cards fetching thousands at auction.
In July 2020 a rare complete 1st edition Pokémon base set sold online with Richard Winterton Auctioneers for £25,000. This latest sale is set to be the company's biggest Pokémon auction yet.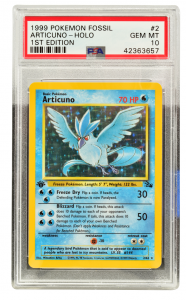 "Pokémon is quite simply a global sensation and the ultimate 'new' collectable," said auctioneer Richard Winterton.
"As the sale ties in with the 25th anniversary we expect huge interest across the globe, especially collectors in Japan, China and the USA.
"This is the hottest Pokémon ticket in town and we are super excited to be in on the action."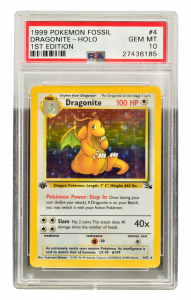 The timed auction will be managed from The Lichfield Auction Centre at Fradley Park, Staffordshire.
The sale starts to close from 10am  on March 8 – that will make it 7pm in Japan, 6pm in Hong Kong and China, 3.30pm in India, 5am in New York and Washington, 4am in Chicago, 3am in Denver, 2am in San Francisco and midnight in Hawaii.
Richard Winterton added: "We have organised a timed sale rather than our more usual live auctions so as to enable bidders from all over the world to get in on the action.
"We've also carefully timed the closing of the sale to ensure it falls on the same date and at as convivial a time as possible for bidders!"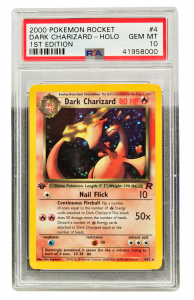 From beginnings as a simple trading card game, the past few decades has seen Pokémon evolve into a serious collector's business.
The rare and highly sought-after PSA Gem Mint 10 grade certifies that the card is in perfect condition.
The Richard Winterton sale features around 740 cards so graded, including 1st editions and promo cards, securely sealed in PSA plastic cases with cellophane outer sleeves, plus several hundred others in very good condition and encased in plastic sleeves and folders.
The PSA Gem Mint 10 graded cards include:
1st edition Team Rocket Dark Charizard Holo, estimated to fetch between £3,000 and £5,000
1st edition Fossil Dragonite Holo, est. £3,000-£5,000
1st edition Team Rocket Dark Dragonite Holo, est. £2,000-£3,000
1st edition Fossil Articuno Holo, est. £1,800-£2,000.
These cards are all being marketed on behalf of a collector from the Cannock area.
International prices for Pokémon have skyrocketed – a sealed First Edition Booster box recently sold for £298,000. Last November, a PSA graded 10 1st edition Base Set Charizard sold for over $350,100.
And never has condition been so crucial.
Jon Price, toy specialist at Richard Winterton Auctioneers, said: "The fact that these cards are PSA Gem Mint 10 graded massively increases their value and is particularly important in America. Grade 3 is considered very good; 10 is just incredible."
The timed auction also has a real air of mystery thanks to the presence of 70 sealed Team Rockets booster packs, each containing 11 cards, and an unopened Base Set Booster Box from Wizards Of The Coast, still enclosed in its WOTC branded cellophane.
Jon Price added: "The Booster Box is sealed in the original wrapping and because it's unopened no-one knows for sure what's inside. Some people might want to buy it to open it; some people might buy it to just sit on as an investment.
"Certainly, very few of these remain sealed and that gives this particular lot a real element of mystery!"
Richard Winterton Auctioneers is already planning another online-only timed auction focussing on Pokémon to run from May 6 to May 19, with further entries needing to be consigned by April 23.
Richard Winterton added: "Pokémon may be a lot of fun but it's also a very serious business for collectors who are prepared to hunt all over the world for that special card and will invest thousands and thousands of pounds to secure it."
The online catalogue for the Pokémon 25th anniversary can be viewed at bit.ly/AuctionDates.
Visit www.richardwinterton.co.uk and bid live at https://bid.richardwinterton.co.uk/auctions/7740/srric10235