Oliver, of RB Collection, took a self-drive holiday around Gran Canaria this spring and fell in love with the island all over again. Photography by Oliver.
My first visit to Gran Canaria was in 2004 for a simple week on the beach, the most common reason visitors flock to the island. Perfectly positioned off the north west coast of Africa, the Canary Islands offer year-round warm weather yet much more than beaches and luxury resorts. I returned to discover what else is on offer, needless to say I was pleasantly surprised.
Our journey began at Las Palmas airport which is just a 30 minute drive from the popular resorts of Playa Del Ingles and Maspalomas and around 20 minutes from the capital city Las Palmas, our first stop for two nights.
As we landed first thing in the morning we wanted to make the most of our time before checking into the city. We headed inland from the airport and quickly climbed to some impressive heights.
Gran Canaria is the third biggest Canary Island after Tenerife and Fuerteventura yet the second most visited. It is very easy to escape the busier resorts and be surrounded by nothing but deserted and picture-postcard scenery, traditional villages and interesting history. This is one of the reasons I love driving holidays and exploring Mediterranean islands, it's so easy and quick to experience a variety of scenery and vistas plus it's relaxing to explore at your own pace.
We drove through Telde and then to La Higuera, Los Veroles and turned right towards the Jardin Botanico Viera y Clavijo. This detour inland worked out great as it wasn't difficult to discover pretty spots to enjoy along the way.
With stomachs rumbling we stopped at Restaurant Jardin Canario, a great lunch stop next to the Botanical Gardens where we enjoyed sumptuous Mediterranean salads, traditional Papas Arrugadas (Canarian wrinkly potatoes) and the perfect local desserts made on site. All of this and we had only landed three and a half hours ago!
After a look around the gardens it was time to continue to Las Palmas. 
Gran Canaria was known by its aboriginal inhabitants, the North African Canarii, as Tamaran (land of the brave). They reportedly arrived on the island as early as 500BC. Spain conquered the island in 1483 but more famously Christopher Columbus spent time on the island prior to his first trip to the Americas in 1492.
Las Palmas is the largest city on all the Canary Islands and spreads out along 9km of coastline with the historic district of Vegueta my top tip for the focus of any first-time visitor.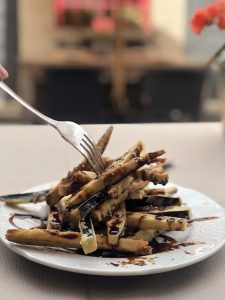 Our base for a couple of nights was the grand dame of the city, the Hotel Santa Catalina, Royal Hideaway. This five star, opulent property oozes history and old-time glamour and is around 20 minutes by foot into Vegueta, and a short drive of the north of the city where the main beaches and commercial areas are.
The hotel dates back to 1890 and has been beautifully restored to offer modern amenities such as a stunning rooftop infinity pool and everything you expect from a five star hotel. It has certainly not lost its charm with a very glamorous lounge room with sparkling chandeliers and classic, turn of the century decor. I wasn't expecting this at all, it is a real hidden gem. You can imagine what it would be like all those years ago, filled with explorers, traders and celebrities on their journey to the Americas.
Blending a resort feel with a city location is always a challenge for a hotel and the Santa Catalina does a great job. It has a very distinct and grand design with Moorish elements such as wooden balconies.
The grounds of the hotel, park, flower-lined driveway and waving palm trees are a far cry from the pretty desolate area that surrounds the airport. In such a short space of time we had taken in so much.
A couple of nights is enough in Las Palmas and the main attraction is wandering around Vegueta. Enjoy an escorted walking tour and discover the interesting maritime history or simply wonder yourself. The walk from the hotel will take you through colourful streets showcasing the vibrant past of the city. Side streets are lined with pastel buildings that boast bold accents of colour, all decorated with mosaics and floral motifs as if they're fighting for attention.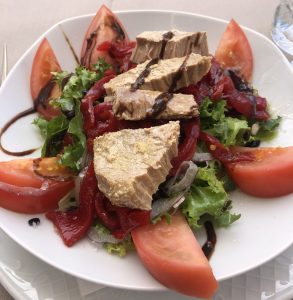 Our second stop was Paradores de Cruz de Tejeda in the centre of the island, high in the mountains. We were really looking forward to this retreat to not only see some scenery but also reconnect, have some time out and breathe after a very stressful year.
We first took a slight detour to Mirador de Las Coloradas, pretty much the most northerly part of the island. From here you pull up and take some beautiful photographs of the Atlantic, or if you like walking (or surfing) park up by beach (Playa del Confital) and experience dramatic waves and rugged landscapes.
The journey from here to our next stop was only about an hour non-stop, but of course with so many colourful flowers and charming spots we took our time to take it all in. The fields were lush and green. We spotted Bougainvillea, Hibiscus, Blood Trumpet, Bird of Paradise and Flame Vine as we left the buzz of the city behind and entered deep into Canarian rural life.
Working cattle farms blended with quaint villages, holiday homes and rolling hills to create a really enjoyable drive. Locals were polite to help us pass and welcomed us into shops and cafes. Time seemed to have stood still for many and our worries of the pandemic floated quickly away as the fresh air and tranquil surrounding eased us into a sense of calm.
Paradores de Turismo de Espana was established in 1928 to protect the historical and cultural heritage of Spain, help promote local economies and care for the environment. There are 96 of these state-run hotels across Spain and her islands and each has its own character. They are well known for their gastronomy and unique experiences and are generally great value for money.
Paradores de Cruz de Tejeda is no exception. Located high in the mountains of Gran Canaria it is a well-known base for hikers, cyclists and now social media fanatics as they crave that ultimate photo opportunity. The hotel is famous for its jaw-dropping mountain views and each room has one. You can enjoy the vista from your private balcony, from the restaurant and even the spa with its infinity pool.
Even if you are not a big hiker you can still experience a short walk from the back of the hotel and in just a few minutes you are surrounded by nothing but scenery, wildlife, more flowers and the sound of rustling trees in the fresh mountain air. Kaleidoscopes of butterflies danced around us almost acting as little tour guides on our morning hike.
We stayed for two nights and also took a short drive down to the very beautiful village of Tajeda. This traditional Canarian village is well worth a visit and in the afternoons is popular for an ice cream and a stroll with locals and visitors. In this area the popular peaks of Pico de las Nievas (Snow Peak), Roque Nublo (Cloud Peak) and Roque Bentayga create a dramatic landscape. 
Next time you visit Spain (or in Portugal look for the equivalent Pousadas) I highly recommend looking up a Paradore. Even if you stay for just a night, they will no doubt enhance your stay and you will be helping inject much needed funds back into the heritage of the country.
After a few days of mountain air it was time for our longest drive to the more popular side of the island for a few days by the beach. The journey is only around 48km and can be completed in around an hour and 20 minutes, but we took nearly all day as there is so much to see.
I would pack a lunch and enjoy a stop at one of the many picnic stops, hiking trails or photo vantage points along the way such as Llanos De La Lez. The scenery turns into pine-filled forests, a total contrast to the northeast colour floral vistas. For hikers, I would recommend Aparcamiento de la Degollada de La Goleta. From here you can walk up to El Fraile for wonderful views of Roque Nublo from the other side of the mountain compared to earlier in Tajeda.
The roads can be quite windy but are wide, quiet and easy to drive. I recommend an automatic SUV or 4×4 so you can focus more on the views and have more height.
The scenery becomes more dramatic as you descend towards the coast. We stopped for a short walk around San Bartolome de Tirajana where we also filled up with fuel and snacks. This is also where you can start the famous hiking route of El Camino de Santiago to Gádar. 
We skipped the hike and instead continued our journey; the beach was calling! Along the way there are plenty more photo stops including Degollada de la Yegua which was probably the most impressive. You can stop here for sweeping views over the canyon and nature reserve.
The island is well known for its Aloe Vera plants and a stop at the Finca Canaries Aloe Vera Fataga is a good idea to buy some home-grown products.
Just 30 minutes later we were on the coast and checking into the Seaside Palm Beach Hotel in the resort of Meloneras for a relaxing end to our driving adventure. This is a firm five star favourite of our clients and I can see why with superb service, delicious food and spacious balconies with sea views.
A far cry from the hustle and bustle of Playa del Ingles, Meloneras is home to a handful of luxury resorts and hotels. I visited the top hotel on the island, and in my opinion the best in all the Canaries, the Seaside Grand Hotel Residencia. An oasis of calm and sophistication, this small village-like boutique hotel offers nothing but the best for discerning clients looking for a smaller, more exclusive experience.
The area is perfect for those who like a stroll (it's completely flat) with a long seafront with up-market restaurants and boutiques very close by. The white sandy beach is huge and will keep keen walkers occupied for hours. For us however it was time to sit back, relax and enjoy some important time together.
We looked back over our photos from the past few days and had to remind ourselves where we were. The romance of 17 years ago came flooding, after all this was where we first came on holidays together. It felt reassuringly familiar, yet everywhere we had seen on our drive was completely new. The emotional connection to exploring, reconnecting, reminiscing and sharing was back because we were once again, and finally, travelling together.
The island will always have a special place in our hearts and now, in these post-pandemic times, we feel so privileged to have explored even more and enhanced its appeal as a special, memorable place for us both and I'm sure we will return.
To plan a holiday to Gran Canaria contact Oliver or Nathan on 01543 258631 or email vip@rbcollection.com. Remember to mention J'AIME when you call.