Staffordshire author Debbi Voisey has been writing since she was a little girl but has just accepted her first book deal in her 50s. She tells Jenny Amphlett about her debut novella, Only About Love.
The debut novel by Staffordshire author Debbi Voisey reads like the work of someone who has spent decades honing their craft – because that's precisely what it is.
Born and bred in Stoke-on-Trent, Debbi spends her working days crafting newsletters and bulletins for DHL and then every spare moment she can find working on her own creative writing.
That dedication has seen her longlisted and shortlisted in the likes of Bath Short Story Award, Flash 500 and Reflex Fiction. She's a past winner of Staffordshire University's Too Write creative writing competition, where her prize was presented by former Poet Laureate Carol Ann Duffy.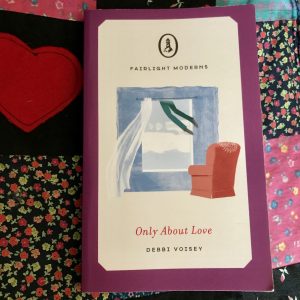 Now her first book, Only About Love, is out on August 5. Unlike many debut works, the novella-in-flash is not self-published but rather is published by Oxford-based Fairlight Moderns.
Although a work of fiction, the book is based on some of Debbi's own experiences including watching the decline of her own dad to Alzheimer's.
"The character Frank is definitely based on my dad and a lot of the things in there are true," said Debbi. "My mum doesn't mind that certain things are being exposed.
"It's based on his life but the family in the book is entirely fictional. I talk about him having an affair but I don't know the details so a lot of things I describe are totally made up. It's based on him but fictional.
"Dad was ill and in a home for a few years and I found myself writing all these little flash fictions. Then when I came to write the novella I had all these linking stories which I expanded and added to.
"What's really sad about this book is that dad isn't here to see it being published. I had to dedicate it to him."
Although she hasn't self-published, Debbi says people who go down that route work extremely hard at it.
"There are a lot of people who assume that I've self-published, but I haven't, not that there's any shame in that," she said.
"The marketing is all down to them and a lot of people have become very successful releasing books that way. 
"I'm being paid in advance and will be paid royalties as well," said a proud Debbi.
"The publisher put out an open call for novellas so I applied. They loved what I sent in and wanted more to develop it a bit. I doubled it in length.
"They're such great publishers to be with, so proactive and they aim to only publish quality fiction."
The novella-in-flash has been around for many years but has become increasingly popular over the past three or four years. Every chapter of a novella-in-flash can be read as a standalone story, but they also link together and make sense as part of a wider story.
"They're short chapters so they're easy to read, you can read one of two chapters if you only have a few minutes," she said.
"You can be very experimental with flash fiction and use a lot of different techniques. I enjoyed putting some lists in there – including the items in an adulterer's holdall. The first chapter is a breathless paragraph – which purposefully has no punctuation."
Debbi added: "When I won the Too Write competition five years ago mum and dad went to accept the prize on my behalf as I was away on holiday. Dad was so proud, he cried. That was just before he started to get really ill.
"When I heard about this book being published he was still alive but was too ill to understand. I still wish I could tell him about it."
Only About Love by Debbi Voisey, published by Fairlight Books, is out on August 5 priced £7.99