No festive gathering is complete without a cheeseboard, and if you're starting to plan what yours will look like we have some fantastic pointers for you from a true expert in the field. 
At the International Cheese and Dairy Awards on 21 October, a prestigious international event held for the first time this year at the Staffordshire County Showground, we got the inside track on pulling together the perfect cheeseboard from Noémie Richard.
Noémie is Cheese Training Manager at Savencia Fromage & Dairy, whose brands include Saint Albray, Le Rustique and Saint Agur, a food engineer at the French agricultural college Isara Lyon, and a Maître Fromager of La Guilde Internationale des Fromagers. So it's safe to say she knows what she's talking about when it comes to all things cheese.
To build her cheeseboard, she goes right back to basics, starting circa 4000 years ago in Mesopotamia with the very first type of cheese to be 'discovered'. This was the original agricultural revolution, when shepherds stored milk in the stomachs of goats and sheep. The rennet and natural microorganisms caused the milk to solidify, resulting in simple fresh cheeses much like the soft goats' cheese you can find in the shops today. 
You could use a Chavroux for this element, simply draining any excess liquid and gently placing it on your slate or board as if you were building a sandcastle. A drizzle of runny honey complements the slightly acidic, milky notes.
In areas where milk is available year-round, there is less need for it to be preserved, and in France that resulted in short shelf-life cheeses such as camembert. It's no accident that soft rind cheeses like brie are made in a wheel. The shape makes a huge difference in the maturation process – which happens from the outside in – and therefore the taste. 
A cheese like Caprice des Dieux (literally 'whim of gods') shows off the results perfectly in it's unusual oval shape. The soft rind encloses a liquid layer and at the centre you find the creamy 'lactic heart' of the cheese. It's delicious paired with something slightly sweet, and will look stunning on your board if you gently pare the centre of the rind away and spoon on some tangy citrus marmalade.
For a well-balanced cheeseboard, Noémie advises thinking about the different 'families' of cheeses as well as including varieties from different regions or even different countries. We already have a soft and a soft-ripened cheese on our board, so the next selection should be an example of a washed rind cheese. 
Maroilles is a cow's milk cheese made only in the regions of Picardy and Nord-Pas-de-Calais in northern France. Like Stilton or Brie de Meaux it has protected designation of origin (PDO) status. Its distinctive orange rind is the result of an 8-week maturation process during which it is repeatedly washed with a damp cloth containing microflorae that produce carotene. The intense, savoury taste balances well with the spicy sweetness of gingerbread loaf in place of the more familiar cracker. You can even sprinkle a little crystallised ginger over the top.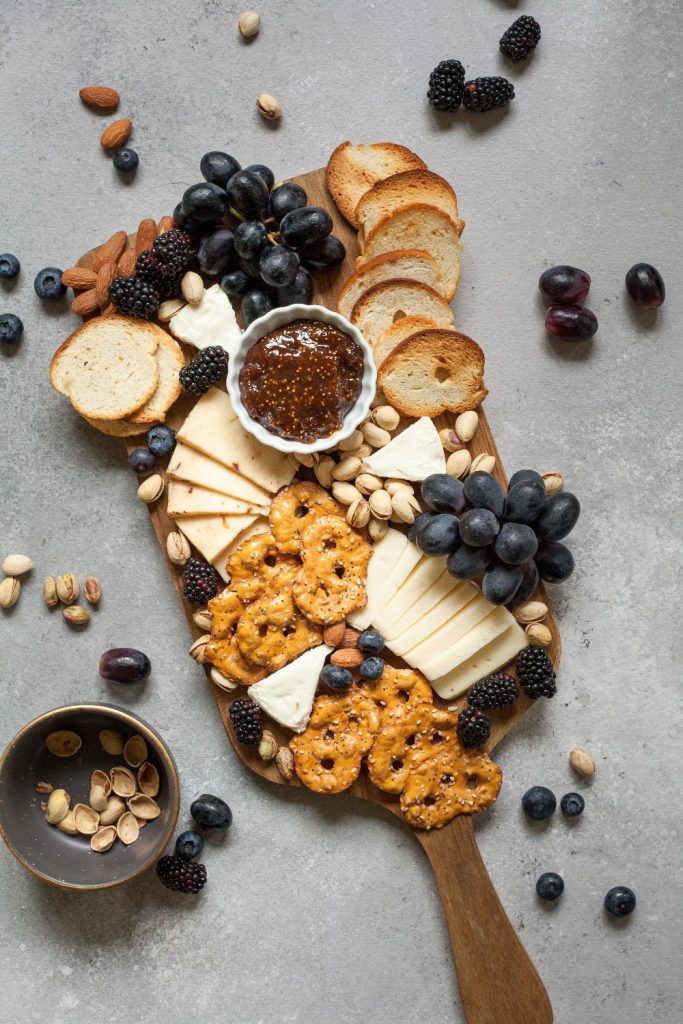 Ideally it works best to have a larger piece of each cheese on the board for your guests to see, alongside smaller pieces that they can easily take. One real must-have is a palate cleanser. Fresh slices of apple are the go-to for professional cheese graders – and, indeed, the International Cheese and Dairy Awards judges – with the Granny Smith recommended above all for its crispness and tartness. Plus it will look great as part of your display. 
Next to add is a hard cheese. These contain more milk solids, which means they require longer to mature and are generally more intense and concentrated in flavour. The Tomme de Brebis that Noémie recommends is on the softer side of hard – a relatively young cheese from the French Basque Country with a mild, nutty taste that works really well with a few drops of honey and a scattering of blueberries. Simple accompaniments like this are all these cheeses need, Noémie explains, as the maturation process has already done the hard work of creating complex and satisfying flavour profiles. The Tomme de Brebis is a ewe's milk cheese, adding an extra dimension of variety and interest to the board.
The final cheese family to consider is blue, and on this occasion it is Saint Agur. Produced in the Auvergne region of central France, this blue cheese gets its exceptional creaminess from the milk of the Montbéliarde cows that thrive there. They produce milk with a very high protein and fat content, ideal for the Penicillium roqueforti fungi that make the cheese blue. It melts on the palate without losing its intense character – the perfect finishing touch for your festive cheeseboard.