Appearing at Lichfield Festival has a special significance for writer and performer Katie Arnstein – she was born and raised in the cathedral city. Jenny Amphlett caught up with her before her show.
Katie Arnstein was at the cusp of something very special at the beginning of 2020. After years of combining her theatre work with waitressing and bar jobs, she had a UK tour booked for her one-woman show, Sexy Lamp.
Just three dates into that tour and the world closed down due to coronavirus, leaving Katie in the same precarious situation as so many other performers and arts workers.
So she moved back from London to live with her parents in Shenstone, from where she's been giving online performances whenever possible and preparing for theatres to reopen.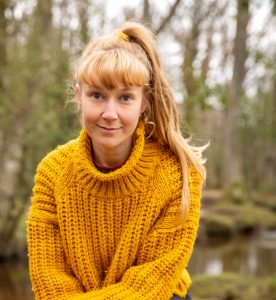 "I grew up in Shenstone, went to school in Lichfield and spent a lot of my teenage years in the area so the Midlands feels like home to me," says Katie. "A lot of my work is centred around that area too."
Katie went to Friary School in Lichfield then trained at Birmingham Conservatoire, so the second city often features in her work too.
"Sexy Lamp, the show I'm bringing to Lichfield Festival, is about leaving the Midlands, moving to London and chasing the dream of bright lights. I think it also has the message that there's no place like home.
"I didn't leave the Midlands until I was 21 so it completely founded me. I learnt an important lesson in my first few years in London. I was trying to be like everyone else and forgot what makes me unique."
She ended up writing a trilogy of one hour semi-autobiographical, comedy storytelling shows. The first, Bicycles and Fish, is set in Shenstone. It's followed by Sticky Door and now Sexy Lamp.
Katie managed to fit in one live show between lockdowns, at a theatre in Scarborough in October 2020, before arts venues were forced to close their doors once more.
She's been trying to move her work online wherever possible, including performing a version of her show and a workshop for an audience in Oregon in the US.
"Trying to work during the pandemic hasn't always been easy, but I wouldn't have got to that theatre space and that audience without Zoom.
"I've also been giving online performances for friends and family – being online certainly makes things more accessible for a lot of people.
"There are a lot of people who can't go to the theatre for a myriad of reasons. I love the idea that we will be able to go back to doing shows in theatres but also stream them too to make them accessible. We'll be able to reach new audiences that way."
Shows at The Hub at St Mary's at 6pm and 8.30pm on July 8 as part of Lichfield Festival will be amongst Katie's first live performances in 2021 – and she says she couldn't be more excited.
"Lichfield Festival is so important for me," she says. "I used to go to the festival and imagine what it would be like if I could perform there one day. This is going to be really special for me, particularly after the year we've just had.
"It's so brilliant that festival director Damian Thantrey agreed to have my show. After the year we've had I feel so lucky. I can't wait.
"Performers like me do shows to connect with an audience, to feel the energy in the room. It's going to feel very good to have that back again."
To find out more about Katie visit her website at  www.katiearnstein.com. Tickets for her Lichfield Festival shows can be booked at www.lichfieldfestival.org or by calling the box office on 01543 306271.