Wnder Chocolate is an artisan chocolate brand inspired by Lichfield hero Erasmus Darwin and the Age of Wonder. Amy Norbury spoke to founder and chocolate-maker Luke Pearson to discover more
Hot air balloons, mammoth stories of botanical discovery and a fusion of art and science were all hallmarks of the Age of Wonder, the period of enlightenment and invention during the late 18th century which saw the birth of modern science.
And it is in homage to one of key figures of this period – and one of Lichfield's most famous sons – that fellow Lichfeldian and artisan chocolate-maker Luke Pearson has named his new chocolate brand, Wnder Chocolate.
"We've lived in Lichfield for many years and we're really connected to the city, and when I was developing the brand I was looking at some leading figures from Lichfield who have done really cool things," says Luke.
"Erasmus Darwin was a physician by trade, but what really put him on the map was poetry. He was a poet, a writer, an artist at one point, and he did all these amazing things which saw the arts and science come together. He's from a time which has now been called the Age of Wonder, and it's the first time you can see this happening en masse.
"Erasmus Darwin was also one of the first people to put to the British government an anti-slavery law, which ties into everything we believe when it comes to the ethics of our chocolate, and it just hit the nail on the head for us."
Much like the Age of Wonder introduced the world to the wonders of modern science, Luke's chocolate is very much modern chocolate.
"We want to change how people perceive chocolate," explains Luke. "For us, labelling it as modern chocolate is our way of saying it's well-sourced, both environmentally and ethically, and that there's no forced labour, slavery or child labour in the origins of the beans we use. Sadly, it's a widespread problem in the chocolate industry and big companies have been trying to tackle it for the past 20 years with little success, although things are definitely changing.
"But we don't want to be preachy or take any of the fun out of chocolate at all; it's an everyday treat, a little pick-me-up and a great way to escape for a moment."
Wnder Chocolate's home is on the picturesque Thorpe Constantine Estate, just outside Tamworth. Adjoining the small factory room, where Luke works his magic, is the Saddle Room, a beautiful space where Luke plans to hold chocolate tastings and workshops.
Food, and particularly chocolate, has long been a passion for Luke.
"I'm a bit of a geek at heart," laughs Luke. "I've always loved food and drink, and as a kid I used to try to skive days off school so I could stay at home and watch cooking channels."
After a stint at catering college, where Luke realised that, while he loved that world, formal education wasn't for him, he started working at a restaurant in Birmingham, first waiting tables before finding his calling behind the bar.
"I was seeing so much creativity on the bar side of things, as well as that instant customer reaction that you get from that face-to-face moment," explains Luke. "I wasn't that great at being locked away in a kitchen, but being able to play with ingredients and have that interaction with customers at the same time was a real buzz. I was hooked."
After quickly working his way up to become head bartender, Luke spent a few years in Birmingham working at various high-end cocktail bars and Michelin-starred restaurants, being a part of the team opening The Edgbaston Hotel, before the bright lights of London came calling.
"My dream was very much to work in five-star hotels; I've always loved that luxury element and that ability to really create a moment," says Luke. "I wanted to work for the best, and be the best."
After embracing the London lifestyle for a couple of years, Luke began to pine for the Midlands. And when the opportunity came up to become the manager of The Edgbaston Hotel, he grabbed the chance. But after a while, Luke began to question his future in the industry as a whole.
"It's a hard industry, and being in that line of work eventually takes its toll on you," he says. "You're working 70-hour weeks, and while you're engaging with a lot of people it's actually quite isolating at times. There were lots of elements that I loved about the work, but there were lifestyle things I needed to change.
"I also loved the creativity, but alcohol was very much a key part, and often people were just looking for the side-effects of drinking alcohol, rather than the flavours and ingredients of the drink itself."
It was then that Luke met Ben Branson, the founder of non-alcoholic spirit company Seedlip.
"It captured my imagination that I could work in this world, and have that creativity and innovation, but without any alcohol. These drinks weren't about getting you drunk any more, it was about the experience of flavour – much like a great plate of food."
After starting out as an ambassador for the brand before moving into a research and development role, Luke spent two years stretching his creative muscles coming up with delicious cocktail ideas, as well as gaining a valuable insight into how a young brand is created and developed.
"Ben has always been a person who is passionate about allowing young people to develop their skills before going on to start their own businesses," says Luke. 
"Running my own business is something I've always wanted to do, and after two years it felt like the right time to move away and start something of my own.
"The luxury elements and the creativity are something I'm really passionate about, and I wanted something to bring together these elements. Originally I wanted to create a box of chocolates; I'm a bit obsessed with boxes of chocolates, I think there's something so magical about them. And they have a lot of synergy with cocktails, they're seen as a luxury, they have intense injections of flavour and you can have a lot of fun with them.
"But looking at the raw materials, you're only as good as the chocolate you use – and to be honest I wasn't blown away by what was available. More importantly, I started to understand the procedures and processes of making chocolate from beans. And I was instantly hooked."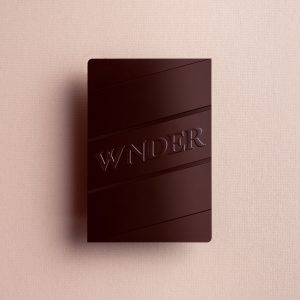 Luke started experimenting with making chocolate at home, with friends and family as his willing taste testers. And as his time at Seedlip came to an end, it seemed like a natural progression to develop his chocolate obsession into something more.
Luke got the keys to the Saddle Room in February last year, and spent months during the first pandemic lockdown honing his chocolate-making skill and perfecting his recipes.
"Throughout that time I was able to do lots of recipe testing and development; I'm so used to cocktails, and with them, if the balance of acidity or sweetness isn't quite right you can instantly change it," says Luke. "With chocolate you don't have that privilege. Essentially you have to spend another five days to even get close to where you want it to be, and if it needs another tweak it takes another five days.
"I get excited by the raw ingredients of chocolate, but it can be an extremely laborious process. We literally sort our cocoa beans by hand to get rid of any bad ones and ensure we're happy with the quality!
"The hardest thing in terms of making chocolate is sourcing; sourcing beans from the right origins, which do the right things ethically and environmentally, as well as hitting the flavour profiles you're looking for, and in the right quantities.
"Receiving the beans is a really exciting moment for any chocolate-maker. There's not much you can do in terms of altering the flavours as such, we're definitely guided by the raw product, so sourcing the right beans is the way to get the flavour profile we want."
Luke has developed two distinctly different bars, both with a characteristically light roast and sweetened with a small amount of Brazilian cane sugar from pioneering company Native. The high cacao content of both bars enables the beans to do the talking, while the bars have been aged for between five and six weeks to round out all the flavours and prevent any bitterness. 
Vineyard is 76 percent cacao using beans from Nicaragua, and has notes of grape skin, citrus blossom and fig, while Campfire, at 80 percent cacao, is from Papua New Guinea and offers slightly richer flavours with subtle elements of smoke and spice.
"We don't want to be too pretentious with it; we want people to take from it what they experience, but what we're trying to achieve is a moment and an element of escape," says Luke.
"Vineyard is designed to be very approachable, whereas Campfire is a bit more akin to what I'm used to doing in the cocktail world, challenging people's understanding of what certain things are. We've been going camping every year for the past ten years and, for me, there's nothing better than building a campfire and gazing at the stars. It's a memory I wanted to capture and when I tasted these beans I was instantly transported to that moment.
"It's not a quick turnaround, with five days of making and then the aging process, but it's hopefully worth the while in terms of the flavour at the end of it. We just try to be respectful of the origins of the beans and where they come from. That's where the mastery is, on the plantations.
"And I think our chocolate can offer that needed moment of escape, a little midweek pick-me-up which takes you somewhere that's not your couch on a Wednesday evening. You can taste the landscape and where the cocoa is grown, and be transported around the world, all without having to get on a plane."
For more information and to get your hands on a bar of Wnder Vineyard or Campfire chocolate, priced £6.95 for 65g including delivery, visit www.ageofwnder.com and you can also find Wnder on Instagram at www.instagram.com/wnder_chocolate