As many of the region's theatres and venues prepare to reopen this month, Jenny Amphlett met some of the people helping to bring the arts back to life.
When the new play written and produced by Catherine O'Reilly and Tim Churchill opens in Staffordshire on May 25 it is likely to be one of the first theatre productions in the UK post-lockdown.
The Turnip Field will also be directed by Tim, whose usual day job is resident director of the national touring production of Blood Brothers.
The couple, who live in Stone in Staffordshire, have attracted two West End veterans to star in the show at Stoke-on-Trent Repertory Theatre.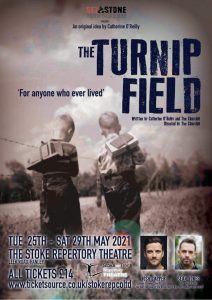 They've also commissioned an original score from a musician with experience of West End productions.
"As far as we're aware it could be the first play to open after restrictions lift on May 17," says Catherine. "It's a very quick turnaround."
The couple were able to stage another of their plays, Closure, at the same venue last September, in between national lockdowns. It was a sell out.
"We had social distancing in place last time and we will again," says Catherine. "We were really pleased with how smoothly it went last time. We had a fantastic team who worked with us on health and safety."
The cast of two will include Sean Jones, who played Mickey in Blood Brothers for 21 years, and Josh Capper, who was part of the international touring cast of Mamma Mia.
"We've got fabulous actors on board," says Catherine. "Everybody has had such a bad year. This is really a story about life, a celebration of life.
"It's a joy to create something and to put it into the hands of two actors that are so strong. We're very lucky to have this team."
The cast have been having readings and rehearsals over Zoom and won't actually get together in person until theatre restrictions are lifted this month.
The play will run straight through, without an interval, to help social distancing during the five performances.
Audience members will sit in bubbles, with seats left empty between each group and empty rows in front and behind.
Making a profit is not the motivation for Catherine and Tim.
"You can't make money out of theatre at the moment, and of course we're paying the actors," says Catherine.
"We're doing this show for a number of reasons. It's a story that we really wanted to write – it's been in our minds for years. It's really important for both of us to encourage the theatre industry and get people back into the theatre.
"Prior to the first lockdown Tim was touring with Blood Brothers and was the resident director of that. Then overnight, that was it. His work completely dried up.
"Now there's a glimmer of hope we want to do what we can to encourage people back through theatre doors.
"This certainly isn't going to make us any money, probably the opposite, but we feel passionately about getting venues back open."
Tickets, priced £14, are available from www.ticketsource.co.uk