Staffordshire-born chef Matt Willdigg talks all things MasterChef: The Professionals, foraging and finding balance through his new business with Katy Edgington
Chef Matt Willdigg impressed judges, critics and audiences alike when he made it to finals week as one of the last six contenders in MasterChef: The Professionals 2021, which aired on BBC One last November and December. 
With stages at the likes of Hibiscus, The Fat, Duck, Quay and Whatley Manor under his belt, as well as stints at Murano and Hipping Hall, Matt's culinary pedigree is impressive and fine dining has taken him to the other side of the world – a long way from his roots in Staffordshire.
Matt grew up in the creative county – he still has family living in Burntwood and Birmingham – and his first time in a professional kitchen was at The Moat House at Acton Trussell, aged just 16. His apprenticeship there was a stepping stone to a career behind the pass, opening his eyes to the world of gastronomy.
"I really enjoyed the atmosphere in the kitchen. I was a bit crazy and hard to control growing up, but the kitchen environment seemed a perfect match. I could be myself, the hours didn't bother me, and I got to try new things all the time," Matt tells us.
"I was quite fussy when I was growing up, so it was quite hard for my mum to feed me. It's only through being in the kitchen – trying things how they're meant to be cooked and seasoned – that I fell in love with cooking and the history of food. I can lose myself for hours down rabbit holes about fermenting or pickling or old plants that have been forgotten."
Matt moved to London at 18, where his experiences at the height of the molecular gastronomy trend blew him away. His early days as a chef were heavily influenced by the two colossi of the time: Heston Blumenthal – "I was a bit obsessed with him for a while" – and Gordon Ramsay. 
"I remember watching him on Boiling Point and The F Word before I was a chef, swearing and shouting, and I thought he was amazing. Obviously times change and that's not the way kitchens should be anymore, but he was a big inspiration for sure," says Matt.
Five years spent working in Australia inevitably impacted Matt's development as a chef, too, particularly given the wide-ranging Asian influences in food there. 
"As a chef it's exciting to find a new ingredient or a new flavour, so going to a new country is almost like starting from scratch; some of the basics are the same, but you get another perspective on food," he explains.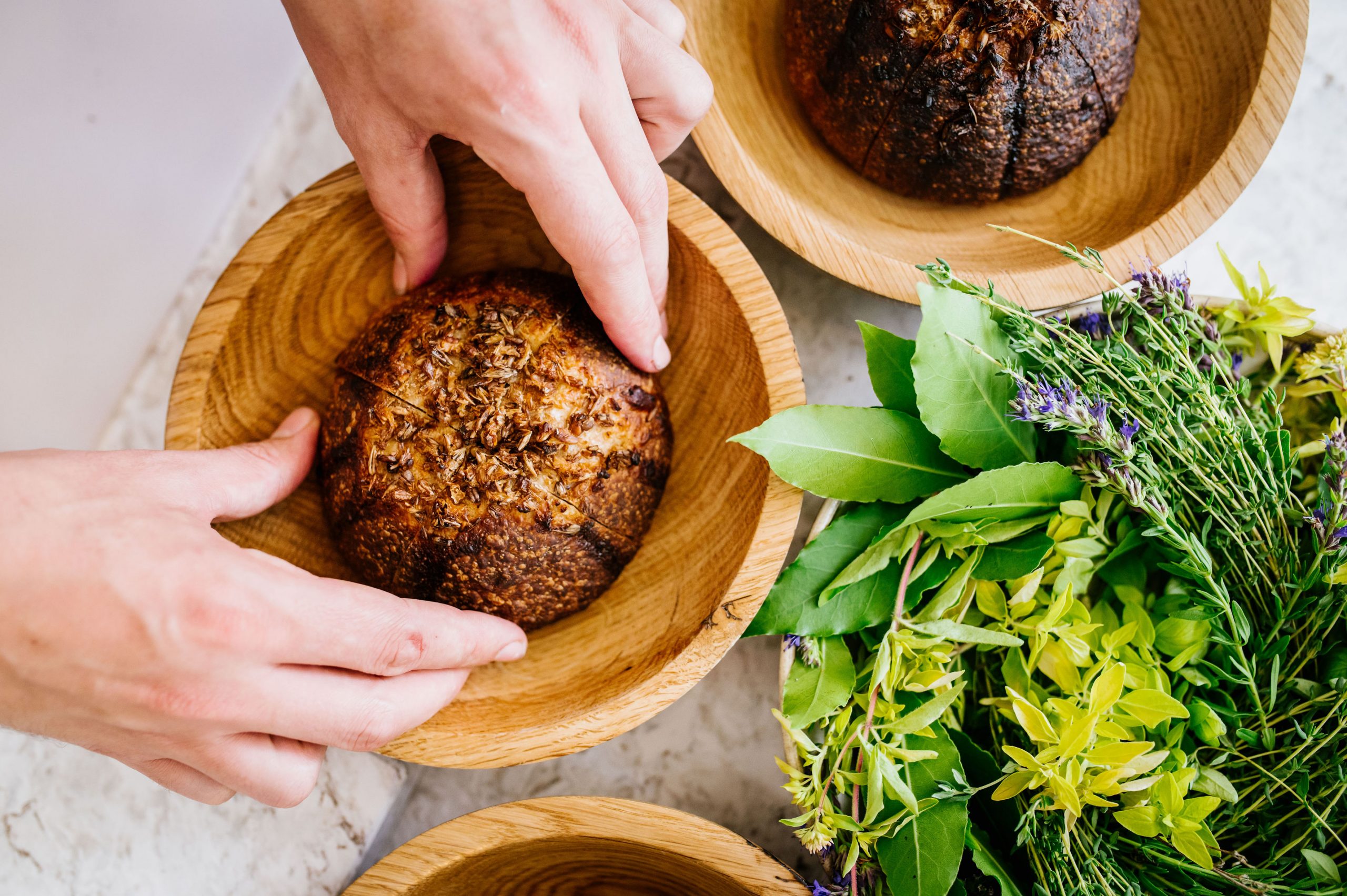 In the MasterChef kitchen
Matt is very honest about the fact that he's struggled for the past eight years with cluster headaches, lasting two or three months at a time, which had stopped him progressing to a head chef position. 
"I always felt I was letting people down in the kitchen, because I'd have to go away for a bit and then I'd come back," he says. "They were really tough to get over – I thought I'd never get to the other side, because there's no cure and none of the drugs I was prescribed worked. It was only when I started to get a grasp on how to manage them that I decided to apply. I was turning 30 and I wanted to have achieved something that would better my future."
This was the motivation for applying to MasterChef: The Professionals, and Matt's dishes when he appeared in that kitchen were a culmination of all his influences and experiences so far. Every dish he put forward was a new one, led very much by his passion for foraging and presenting undiscovered foraged ingredients. Each aimed to showcase an ingredient people might not be familiar with, but used in such a way that the audience watching at home could understand them in context. 
"With a competition like that you have to play to your strengths," Matt says. "You have a better chance of getting through if you stick to what you know. It used to take me ages to work through a dish – a lot of trial and error – but there were a few times when I had only one trial, so even if it wasn't right I'd have to go for it and tweak it on the day."
The most challenging aspect of the whole experience was contending with the limited amount of time between recording each show – only two or three days in the later stages of the competition – while still going to work at Hipping Hall on the Cumbrian and Yorkshire Border. 
"Sometimes I'd come back from London, do a service at work, practice a dish, go home, get up early, go to work, practice a dish and then go back to the MasterChef kitchen," says Matt. "It was so hard to balance everything through the six or seven weeks of filming. Taking part in the competition was the toughest thing I've ever done. It's given me a lot more confidence in the dishes I create, because the feedback I got throughout the whole show was really positive."
In his quest to show the audience at home something new, Matt included some plants grown from seed in his garden in Ingleton where he was living at the time, and some picked wild. A particular favourite was costmary, an ancient forgotten garden herb. 
"It's almost a cross between mint and rosemary, I find, and I really wanted to use it in a lamb dish because they're classic companions for lamb. It's quite strong, but used delicately in the right context it can be great. There were a few more ingredients I wanted to use, but obviously I went out so I didn't get to!" 
So, does Matt have any tips for budding foragers? The main point is to be very careful and absolutely certain about what you've got before you eat it, especially when it comes to mushrooms and fungi. 
"It's taken me years and years of reading and picking and identifying to get to the point where I can pick and eat safely," he stresses. "If you want to go out foraging, pick something really simple like wild garlic or, if you're at the coast, pick some sea arrowgrass or samphire or purslane – plants you're not going to confuse with poisonous lookalikes." 
A foray into event catering
When filming for the series ended in early summer 2021, Matt left his full-time job for a new adventure. Last autumn, he set up Foray Catering with 2018 MasterChef: The Professionals finalist, colleague and close friend Oli Martin. After meeting in Sydney's two-Hat Gastro Park restaurant, the pair went on to work together for a further five years at Hipping Hall – achieving many incredible awards including four AA Rosettes. 
A shared interest in foraging has played a big part in making the two such good friends. Matt was already researching plants during his time in Australia, and when they both returned to the UK Matt paid close attention to what Oli was doing with local plants and other ingredients at Hipping Hall before joining him there. As for many of us over the last two years, the pandemic was a factor in looking for a change of pace. 
"Lockdown showed me that there's a bit more to life than cooking," Matt muses. "I love cooking, but you've got to have that balance. I needed to step away from fine dining for a bit. Someone approached Oli asking if we could cater for a wedding, and we got talking and it grew from there." 
With more than 30 years' experience between them, the pair decided to use their knowledge of the hospitality industry and bring it to weddings, parties, events, and private dining across the North West. The Foray Catering food philosophy is quite straightforward.
"We just want to serve real, tasty, good food to everyone," says Matt. "All the dishes at Hipping Hall we used to create together, and I find having someone you can bounce ideas off like that makes the dishes come out better in the end. I've never been to a wedding and thought 'this is really good food'. We want to do high-end food, using the best ingredients and treating them with respect, so that people can enjoy it and get excited about it."
Matt is enjoying the opportunity to have a better work-life balance while still doing what he loves. And it means they are still able to get involved with pop-up restaurants and private dining when the chance arises.
"Obviously there's a lot of stress along the way in starting a new business, but I've got a lot more energy now, I've got a girlfriend, and I'm enjoying being in the kitchen more than I was before," he adds.
Matt is now based in the seaside town of Lytham with Foray's kitchen unit a short drive away in Preston, but ventures further afield are not entirely off the cards.
"We're concentrating on the North West at the moment, although we do have an event in Buckinghamshire in a few weeks. We don't want to run before we can walk, but we're not ruling out travelling!"
To find out more about Matt and Oli's new venture, visit www.foraycatering.co.uk