Nathan Collins, from Lichfield-based RB Collection, explores the growing selection of luxury cruises around the UK.
Who would ever have thought the world's leading cruise lines would be descending on the UK for a special summer programme of sailings? This is certainly going to be a unique occasion indeed.
With the vaccine rollout speeding along in the UK, cruise lines have decided to reposition their ships and offer a variety of departures in UK waters this summer. From short taster cruises to longer sightseeing and wildlife itineraries there's a long list to choose from.
The variety of cruise brands involved is wide, with smaller expedition ships, tall sailing ships and larger all-round entertainment ships all involved. We will even see a number of brand-new cruise liners use this as an opportunity to finally launch their vessels here in the UK.
Here is your guide to this summer's UK cruises with our top selections to choose from:
Tradewinds Voyages (tall ship cruises)
Experience the British Isles from a new perspective with these seven tall ship voyages exclusively visiting UK ports from June 22, 2021.
These sailings give guests the opportunity to experience Golden Horizon and the best of British coastal towns, whilst not leaving the country – perfect for a staycation at sea. The ship takes around 200 guests and is a near-replica of the 1913 ocean vessel France-II which helps it retain its historic charm and elegance. Guests will experience all the workings of a tall ship as they interact with the crew and learn the ins and outs of operations if they wish.
There are four-night options which allow you to sample this unique style of sailing as well as five, six, nine, 10 and 14 night departures depending on which part of the UK you are joining from.
After the UK cruises this magnificent ship will sail to Europe, through the Suez Canal to Oman, Dubai and then down to Asia and on to Australia. The Golden Horizon is unlikely to return to UK waters for at least a couple of years which makes these UK summer cruises even more special.
Fares start from £899 per person including full board, drinks with meals, WiFi and gratuities. As this is a much smaller and unique ship, we do advise booking early. The inaugural sailings for example have already sold out.
Viking Cruises
Well known for their river cruises, Viking moved into the ocean cruises market a few years ago launching two new ships in 2018. Our founder, Alan, was lucky enough to experience one of their ships and appreciated their smaller size at around 900 guests compared to some of the other well-known brands. This offers a more intimate experience onboard and this summer their brand-new ship, Viking Venus, will sail UK waters.
These cruises have proved very popular already and at the time of writing there are only two dates in June available, I expect due to their smaller size and wide appeal. The itineraries are interesting: the Scilly Isles, Falmouth, Portland. All meals, drinks with meals, gratuities, spa, WiFi and shore excursions are included. We hope more departures will be added later in the summer as they are beautiful, smaller ships and well worth a look at.
Celebrity Cruises
Last year Celebrity Cruises enhanced their cruise to become all-inclusive with drinks, Wi-Fi and gratuities now included in all sailings. This is great news for their one-off summer 2021 UK cruises onboard Celebrity Silhouette. The all-inclusive packages can be upgraded to include even more benefits such as premium drinks, shore excursions and onboard credit.
Celebrity's larger ship carries nearly 3,000 passengers. Families of all ages are welcome onboard and catered for well (adults will need to be vaccinated and under-18s will have to present a negative Covid test). They have a VIP deck called The Retreat which is like a hotel within a hotel, offering more space and added bonuses. If you like the idea of being away from the other guests this is a perfect choice.
Sailings start on July 3 in one-week blocks from Southampton calling at ports such as Inverness (for Lochness), Kirkwall, the Orkney Island, Belfast and Liverpool.
Balcony cabins start from £1,283 per person (family of 4 from £5,099) on an all-inclusive basis.
Virgin Voyages
The new kid on the block hoping to disrupt the cruise industry, Virgin Voyages planned their launch in March 2020. They managed to sail around part of the UK for the travel industry and press to sample the new ship before positioning over to Miami where it would be based. Sadly, the public cruises never started last year due to the pandemic. Lucky for us though, the inaugural public sailing will be in the UK on August 6.
Two, three and four night cruises offer the perfect opportunity to experience this brand-new ship (Scarlet Lady) and see the fresh, original design and services Virgin Voyages will offer in the Caribbean this winter. It's a clever opportunity for the brand to gain some attention and promote itself to a younger audience.
Sailings start at £499 per person with meals, basic drinks, gratuities and WiFi included. Whilst these sailings won't be calling into any ports, they are offering great value for money for those who want to sample the new ship or try out a cruise for the first time.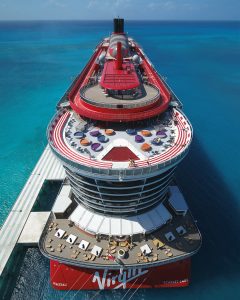 For those who want to splash out, their RockStar Quarters are huge suites and include extras such as bottomless in-room bar, daily spa access and special rooftop access.
Saga
Aimed at the over-50s market, Saga have four departures on Spirit of Discovery (launched in 2019) and one on their new Spirit of Adventure, their latest ship launching this summer. These are proving very popular as they are new ships and only around 1,000 passengers.
Sailings begin on June 27 from London Tilbury, Dover or Southampton depending on which cruise you choose and are offered in five, seven, nine, 10 and 14-night durations. As with other Saga holidays, they emphasise interesting ports of call around the UK and you can relax knowing the cruise is based on all-inclusive. Cruises continue into September, so the season is longer than some of the other lines and already proving popular. Prices start from £1,125 per person. Transfers are included for those living within a 125-mile radius of the departure port.
Disney Cruise Line
Like Virgin's sailings, Disney's will not be making ports of calls. They will instead offer the chance to experience the ship, entertainment and all-round Disney Magic (which is also the name of the ship) with two, three or four night taster cruises. They have the additional attraction of setting sail from Liverpool, Southampton, Newcastle or London (Tilbury) between July and October. This is really handy to help reduce driving time for families across the UK. (Prices are yet to be confirmed).
Fred Olsen Cruise Line
For fans of Fred Olsen, this is another unique opportunity as they will be showcasing their two new ships, Borealis and Bolette (around 1,400 guests). The first is a three-night sailing onboard Borealis from Liverpool to Scotland, a great way to sample the new ship. Prices start from £549 per person. 
There are longer itineraries too and each has been designed to take in interesting ports of calls, wildlife spots and special areas of interest such as the uninhabited islets of Gáshólmur, Isles of Scilly and Shetlands. Summer sailings continue up to September11  and include meals (you can upgrade to all-inclusive). If you are interested in wildlife, culture, history and sightseeing these cruises are great options.
Hurtigruten
Well known for their Norwegian coastal cruises, Hurtigruten's MS Maud (around only 530 passengers) is one of their more comfortable, stylish ships and one of the first to run on biofuel.
The ship will sail from Dover on August 15 and September 10 offering 10 and 12-night cruises with an emphasis on remote islands, natural wonders and our diverse coastline. They will visit Rathlin Island, Northern Ireland's largest seabird colony, the UNESCO double World Heritage Site at St Kilda amongst other interesting ports of call. The onboard expedition team includes experienced ornithologists making this an opportunity to learn more about our homeland.
Prices start from £2,995 including meals, drinks with meals, Wifi and some excursions.
P&O Cruises
Their brand-new ship Iona will set sail to Scotland on August 7 from Southampton for seven nights (from £1,199pp), and Britannia, their flagship liner, offers three (from £249pp), four and six night sailings between June 27 and September 19. The shorter cruises will not make any ports of call and are promoted as opportunities to experience the ship and enjoy the coastal scenery. These adult-only cruises will require passengers to be vaccinated. Iona has a passenger capacity of 5,206 passengers making it the largest UK summer sailings this year.
Princess Cruises
These Summer Seacations onboard either Regal or Sky Princess (around 3,300 passengers) come in either four nights at sea, or seven-night touring cruises calling in at Liverpool, Scotland and Ireland depending on the date. Prices start at £539 per person with a balcony. Along with the other Carnival group lines (P&O & Cunard), all passengers will need to be vaccinated and have mandatory travel insurance.
Cunard Cruises
Just like Princess & P&O, Cunard are offering short taster cruises to experience the ship and have a well-deserved break onboard, as well as longer sailings with ports of call such as Lands End, Liverpool, Scotland, Northern Ireland and Newcastle. Prices range from £599pp to £1,299pp including meals onboard Queen Victoria (around 2,000 passengers).
Other cruises
Cruises are also being offered from Royal Caribbean, MSC and Riviera.
It has been great to see interest in these cruises is already very high. The liners may well add more dates depending on how travel opens up in Europe and beyond and where the ships will need to be positioned.