A Midlands property lawyer turned massage therapist has written a book sharing the secrets of her business success. Jenny Amphlett met her to find out more.
A book which explains how Kathy Scott turned her new career into a UK-wide business has now been shortlisted in the Specialist Business Book category of the The Business Book Awards 2021.
Rubbing Shoulders With The Best by Kathy Scott is up against eight other books by authors from across the UK, with the winner set to be announced during an online ceremony on May 25.
"I wrote the book during the first lockdown," says Kathy. "I wasn't able to operate my massage therapy business so I decided to write about it instead.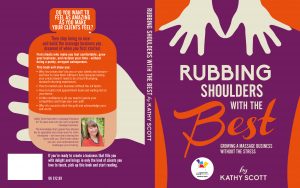 "It's aimed at people who are either running or want to start running a complementary therapy business. There are lots of business books out there but there weren't any specifically aimed at helping people in my industry."
She started writing in April 2020, had her first draft completed by July and it was published before the end of the year.
Kathy's book gives a warts and all account of her experiences setting up her own business, Worcestershire-based Hands On At Work, which has grown from a one person team to now having more than 100 self-employed massage therapists around the country.
Kathy launched her business in 2010 after training as a massage therapist in 2008. It was a complete career change from her previous life working as a property lawyer for 20 years.
She says: "The majority of the work my business does now is corporate massage. People are always asking how I got a foot into that world.
"There are lots of marketing courses out there but none are specific to my industry and I couldn't see the relevance of a lot of it.
"This book is my way of answering people's questions. It isn't a 'how to' textbook. It keeps it real, it's lighthearted and it explains the things I've learnt along the way."
Kathy hopes the book will help people working within any form of complementary therapy and that it will be useful at any stage of their business development. She also hopes it will be a useful tool for schools and colleges that teach complementary therapies.
She addresses the issues some complementary therapists face when it comes to charging a fair price for their time and skills.
"People who go into this industry see it as a vocation and forget their business head," adds Kathy, who says her legal background has helped her.
"I'm trying to get across the message that we love our job and it's a brilliant job to do but we still have to keep an eye on the commercial side of things. Yes, it is possible to make a business out of a job that you absolutely love."
Rubbing Shoulders With The Best by Kathy Scott is available from Amazon or directly from www.rubbingshoulderswiththebest.co.uk priced £12.99.