Four Oaks rescue dog Jazz is the star of a new children's book. Jenny Amphlett found out more from his owner, author Anne Blackmore
If you think you recognise the star of a new children's book then you may well be right. You may have spotted him during his daily exercise around Sutton Park or perhaps he's kept a watchful eye on you from a window while you've made a delivery to his Four Oaks home.
Jazz, a rescue dog owned by children's author and former teacher Anne Blackmore, has been immortalised in her new book – Jazz's Window.
The beautifully illustrated work, aimed at three to eight-year-olds, is all about the things Jazz sees through his favourite window at the family's home.
"Jazz was my inspiration," said Anne, aged 66, a former teacher at Old Church Primary School in Darlaston. "He's always run upstairs to look through the big landing window as it's quite low and he can put his paws up onto it. We've always called it Jazz's window.
"My husband, Paul, suggested I should write a story about it, which is where it all started." The book was several years in the making, including various draft and editing stages, finding a publisher and commissioning illustrations.
"It was important to me to get it just right. I wanted to try to portray Jazz through the story and to have the reader see the things that Jazz sees through his window.
"There's the postman, a lady taking her child to school, a delivery driver going to the house next door. It's very gentle and the children who read it will be able to see it all through Jazz's eyes."
As a teacher of 37 years Anne has a keen eye for what makes a successful children's story.
She's already receiving positive reviews from parents and youngsters alike and has been invited to read the book in primary schools, including the school she used to teach at, once coronavirus restrictions have been lifted.
Anne believes Jazz is a Collie/Saluki cross and his age is estimated to be around 12 years. The family rehomed him from a centre in Northampton, although he was originally rescued from Ireland.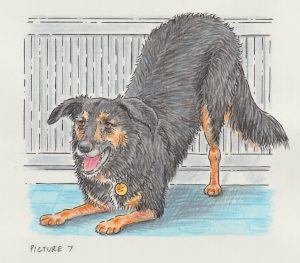 "He's pretty laid back and takes everything in his stride," said Anne. "He loves people and is extremely friendly and sweet natured. He loves having a ball thrown for him and is forever picking up logs that he's determined to carry around with him even if they're too big.
"He loves chasing crows, squirrels and other small animals he comes across on our walks in Sutton Park. He'd happily stay and play there all day."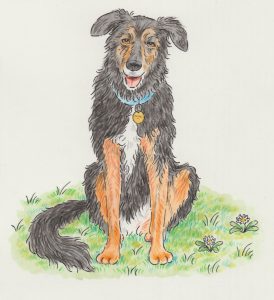 Anne is already working through ideas for future books, which may well include the further adventures of Jazz.
Jazz's Window by Anne Blackmore is available from Waterstones, bookshop.org or Amazon.
You can find out more about Anne at www.austinmacauley.com/author/blackmore-anne or
www.facebook.com/Jazzs-Window-107203421304972