Lichfield Food Festival is returning for their 10th year over the Bank Holiday. From cookery demonstrations, UberEats discounts and 350 plus stalls, there's something for everyone this weekend.
Lichfield has hosted the spectacular food festival for ten years featuring a huge selection of artisan food and drink stalls, cookery demonstrations, street food, music and entertainment, a brewers event, free children's activities and much more.
Hotels around the city are already booked up and this year the food festival will also take over the Bird Street Car Park; this area will be turned into a three-day cookery theatre hosting stars from The Great British Bake Off, MasterChef, local chefs and Staffordshire's only Michelin Star chef, Tom Shepherd from Upstairs.
Lichfield Food Festival is a chance to embrace local businesses, sample new foods and explore flavours.
The festival, originally established as a small event for artisan traders within the Garrick Theatre which has grown year on year, with food and drink traders from all over the country becoming favourites of the local residents. 
Jon Arrowsmith, the managing director of Cocker Hoop Creative, and the food festival's event director said: "The team have put their heart and soul into creating this year's food festival and with some fantastic support from the Lichfield District Council and amazing traders we are going to be putting a lot of smiles on peoples faces."
On Monday 29th see amazing demonstrations from:
The cookery theatre will be set up on Bird Street Car Park, with 150 deck chairs for you to relax in.  
There are loads of cookery challenges with loads of talented cooks – find out more here! 
The leader of Lichfield District Council, Councillor Doug Pullen, said: "Over the past decade Lichfield Food Festival has become one of the premier events of its kind in the UK.
 "Drawing tens of thousands of people from far and wide each summer the festival helps boost both the city's profile and its economy.
 "With its food stalls, cookery demonstrations and entertainment there is something for everyone.
 "I am very much looking forward to this year's festival over the August Bank Holiday weekend and wish it every success."
With plenty of cultured food to try Jahmekan is one of many. Owner Sophia Richards cooks a variation of hot and cold Jamaican food. From mouth-watering jerk chicken, rice and peas and curry goat – if you fancy a side, or just a snack Jahmekan offers a tasty pasta salad, fresh coleslaw and unreal dumplings, plus loads more. With a menu that is carefully curated by Sophia, it is an unmissable stall if you have a taste for authentic Jamaican food.
Another independent  business that will be attending the festival is The Milkshake Shack, they sell milkshakes, Freakyshakes and smoothies which is made in front of the customer to add a little "theatre" and "banter" says owner David. The Milkshake Shack of course offers the classic flavours but also a divine 'chocolate bar range' which features Oreo, Kinder Bueno, Crunchie, Daim, Bounty, Jaffa Cake,  Biscoff plus many more. Then they have their Freakyshakes such as their Drowned Donut shake which is a donut cut into pieces skewered then covered in milkshake and cream. You can pick from loads of freaky flavours to satisfy your sweet tooth!
Lahori Chaska put on an amazing display of a live BBQ where they grill their lamb kebabs and chicken tikka in front of you, with this they assemble your meat within a tortilla wrap topped with special mint, drizzled in chilli sauce and finished off with some salad. The chef's favourite, homemade, double mix is their absolute best seller!
Over the decade, the food festival has brought much needed revenue and tourism into the city, supporting not only small business traders but also shops, restaurants, and pubs across the city.
Leanne, owner of the Duke of York Lichfield, said: "We love the annual Lichfield Food Festival, it brings such joy and vibrance to the city, just to see the city bustling full of people from all over the Country."
"It's such a good opportunity for businesses to take advantage of the extra footfall and promote their businesses', at the least to encourage potential customers to visit Lichfield again.
"The weekend itself for our businesses personally is brilliant and we love being involved, as well as obviously getting the opportunity to try a whole array of food offerings."
Jon said: "We're not changing the concept of the festival, which is that its free for families to come along to, which then in turn means you have more money in their pocket to spend with traders and businesses alike!"
UberEats will be offering 30% off Patty Freaks, Otto Pizza and Toluca Mexican ( 29th August – 4th September).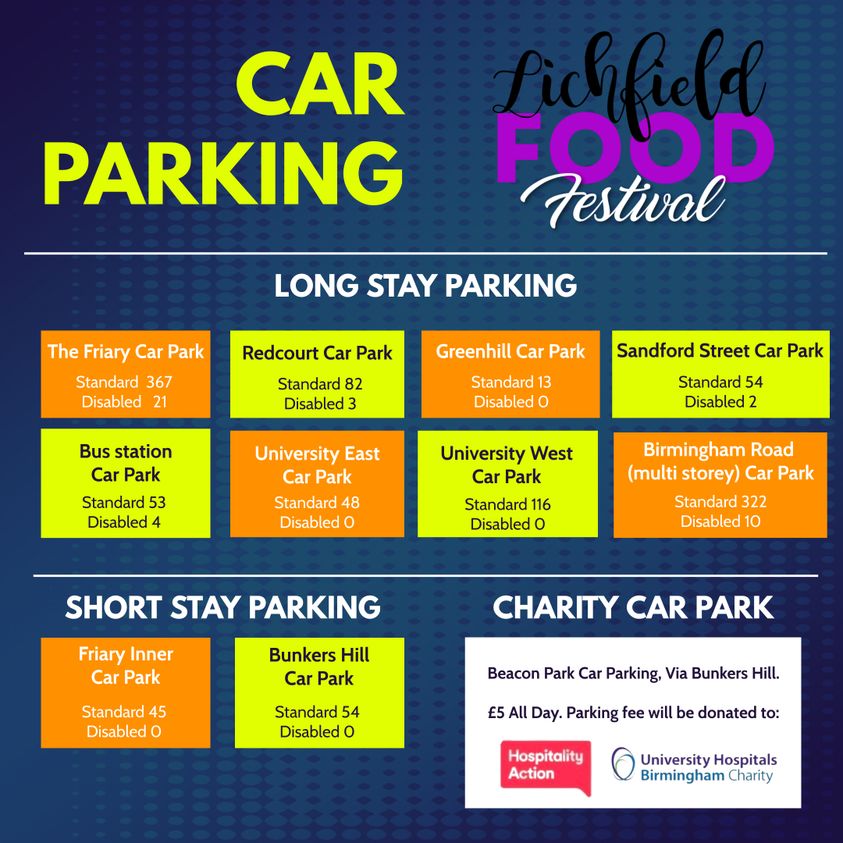 Lichfield Food Festival takes place every year over the whole August Bank Holiday weekend, so put a date in the diary for what promises to be another huge celebration of food, drink and entertainment.