From being shocked at the young age of many seriously ill patients to doing impromptu dances to try to lift spirits, registered nurse Therese Nakitende tells Jenny Amphlett what it's really like to work on a Covid-19 ward
During the height of the first coronavirus wave, when we used to head outdoors on Thursday evenings to thank the NHS, it was Therese Nakitende that we were clapping and banging saucepans for.
The 30-year-old registered nurse, from Kent, spent months working on a Covid-19 ward during that first wave then volunteered to return for night shifts on that same ward when the second wave began.
A mum of children aged just two and six, she works through the night on the ward then returns to her family during the day.
"I do agency and bank nursing work with different companies, which is sometimes within private health care and sometimes within the NHS," she said.
"I mainly do community nursing, but I wanted to help out during the pandemic. I wasn't really scared about working with coronavirus patients. I thought let's just do this. I just went for it."
Therese had worked on a respiratory ward previously, and says the main difference was the sort of patients coming in.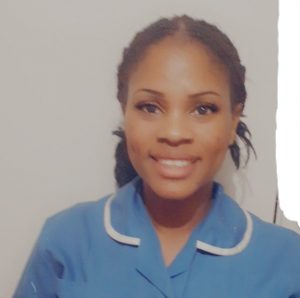 "It was shocking and quite emotional for even the permanent members of staff on the ward. It was the ages of people coming in. Some were very young and with no past medical history.
"We had young, fit people coming in and struggling to breathe and we were having to rush them off to intensive care.
"I just wasn't used to seeing such young people on a respiratory ward. It usually tends to be people with long term conditions and older people who have lived a good, long life.
"The deterioration in some people was also very fast. We had to act very quickly. It was very intense."
Team spirit was strong for Therese and her colleagues.
"The staff were lovely. Plus different companies were sending food to the hospital for workers – we had KFC, pizzas and all sorts.
"I have a very clear memory of driving home after a shift and seeing a man parked up at the side of the road, just clapping. It meant a lot to me, and felt like he was clapping just for me.
"That man had taken the trouble to drive to the hospital, park up and stand clapping for people as they drove in and out. He didn't have to do that.
"He was there a lot so I started peeping my horn when I saw him. It was a positive and loving atmosphere."
No relatives were allowed on the wards, so Therese and her colleagues spent a lot of time reassuring loved ones over the phone.
She says that many of the patients were so seriously ill that it wasn't possible for staff to sit and have conversations with them.
"Many were so ill and not really conscious. Many were having non-invasive ventilation – a mask with forced air pressure to help them to breathe. There was definitely no conversation with them, they were just trying to breathe."
But wherever possible she tried to be comforting and to show that someone cared.
"If they did open their eyes I tried to give reassurance. You could see in their face if they could hear you so you would tell them that their family had been calling and were really missing them.
"When people are that ill they're frightened and perhaps don't think they're going to live, especially those with long term health conditions.
"Many of those must have thought that they wouldn't make it out this time. It's hard not being able to promise somebody anything.
"Sometimes I'd look at a chart and see that someone's oxygen levels had come up from the previous week, so I'd tell them.
"Part of the job as a nurse is trying to keep people positive in a respectful way. You need to find the right ways to do that."
On one occasion for Therese that involved busting some dance moves.
"I remember one morning I went into a bay of four ladies and they were sad and just wanting to go home. I would chat away at them.
"One lady had a radio on so I started singing and dancing around the bay and it made them laugh. Little things like that can help to lighten the mood and lift spirits."
Therese had no qualms about returning to work on a Covid-19 ward during the second wave of the pandemic. "My only question was about PPE," she added. "So long as they had PPE I was happy to be back."